Our POS solutions provide secure and customizable monitor mounting options for a variety of applications, such as retail, restaurant, and hospitality.
We offer a wide selection of POS mounts payment terminal stands, and tablet enclosures. These solutions are designed to withstand heavy use while providing space-savings, flexibility, and security. Create your ideal POS display by pairing any of our enclosures with a large selection of VESA-compatible mounts. Whether you need a standard or custom product, our US-based production team is able to design and manufacture your mounts to meet installation deadlines, even for large-scale projects of 3,000 units or more.
5 Keys to Designing a Great Check Out Experience
This free resource covers five key considerations to make when designing new retail checkout experiences. This includes tips on optimizing your space, designing for upselling and more. We work with companies to create custom POS experiences that help their business grow.
Working with HAT Design Works
An experienced design and engineering team work directly with our sales representatives to ensure customers receive a product configuration created around a specialized application.
A Checkout Worth Checking Out
When a supermarket chain asked us to install new point-of-sale terminals, there was only one problem: The counters were never designed to have a touchscreen.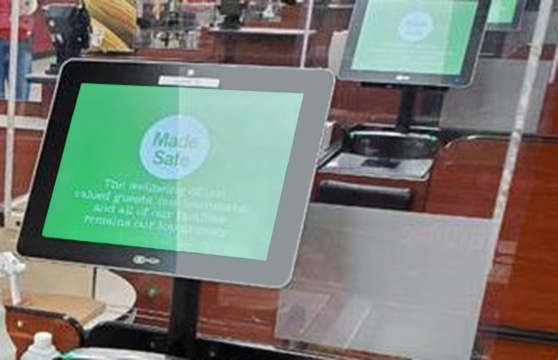 Innovative Order Takers
When a major wholesale retailer's food court had wait times longer than they—or their customers—wanted, we helped speed things up.